Hanging Smart Cap

- Chimney Rain Cap With Integral Bird Screen

The Hanging Smart Cap which is available in 2 colours (Stainless Steel and Terracotta) and 2 sizes (5" and 6"), comes complete with integral rain cap and bird guard. This allows the chimney liner to be installed without the need to remove the pot and prevents any bird entry whilst providing increased rain protection. It is used at the top of the chimney pot to take the weight of the liner; simply push the liner between the three straps and tighten the supplied jubilee band and secure against the pot.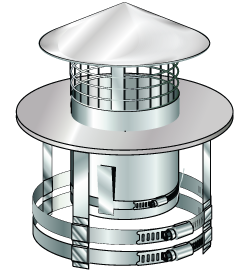 Stainless Steel Hanging SmartCap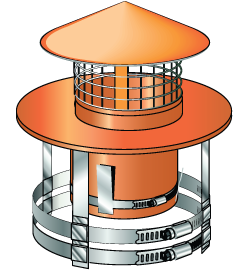 Terracotta Hanging SmartCap
Features
Sizes Available: 5" and 6"
Durable Construction, Manufactured from Powder Coated S/Steel
Quick and simple to install with integral Bird Guard
It is not necessarily to remove the chimney pot for installing a clamping plate
Secures flexible flue liner in place
Prevents rain ingress
Comes complete with external locking bands for extra secure fitting.
Flue Liner Gripper and Rain Cap Terminal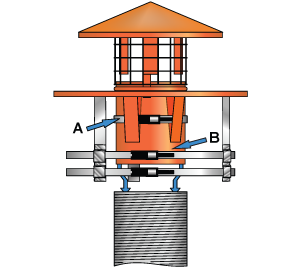 With the upper screw adjusted band A loose, slide the inner tube B of the terminal down inside the top of the flue liner until the liner top meets the underside of the rain cap. Securely tighten the band so that it tightly grips the liner.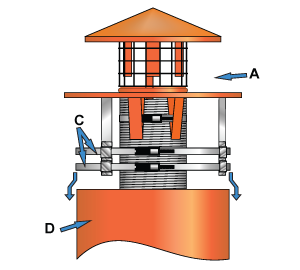 With the liner fully supported, substantially loosen the two screw adjusted bands C so that they will fit around the projecting masonry liner or pot. Carefully lower the liner down into the chimney flue so that the screw adjusted bands slide down around the outside of liner or pot D until the top of which sits firmly under the rain cap.
A view through the through the applied terminal which shows the rain cap fitting over the flue liner and the chimney masonry liner or pot.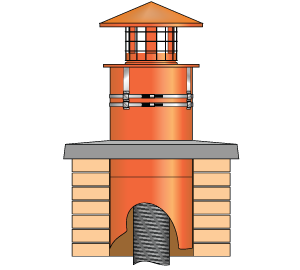 A view of the top of the completed liner installation.